Viewing Document History
Follow the given procedure to view the document history of file(s):
Select the folder from the Collections Folder section. The file(s) of the selected folder is displayed in the Collection Files section.

Select the files (to view the history of actions performed on the file) by ticking the checkbox beside each file or select all files at once by clicking the checkbox beside the File Name column.

Click on (More button) at the top right-hand corner of the screen. A number of options within a menu appear.

Click on File History/Version. A window appears which is displayed below,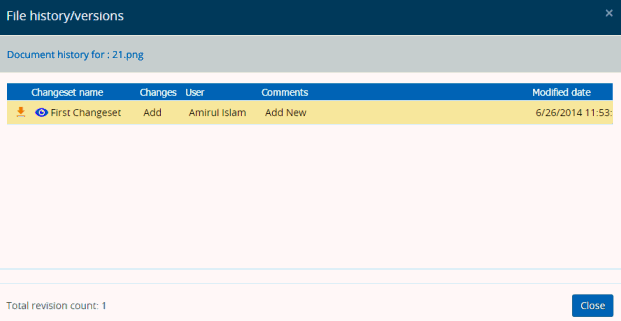 The Changeset name, the name of the user who made the changes, the type of changes made, any comments entered, the modification date & time are displayed row-wise. Separate modifications on the same file are displayed separately.
Go through the history and click Close to exit.
Note: To download a particular document click

(Download Document icon), the specific document gets downloaded. To view a particular document click

(View Document icon).
Links:
Accessing & Understanding Collection Folder & File Screen